"Whoever knows the mystery of vibrations indeed knows all things."
Hazrat Inayat Khan
Sound is vibration and everything is made up of vibration. When we feel good we vibrate at a higher level. When we don't feel good our vibrations are slower and life seems heavier. Sound Soul Healing can help you work through these times, to return to your original resonance frequency.
The ancient Mantras from the Hindu tradition carry a special energy that is simultaneously both earthly and etheric; the harmony of Heaven and Earth. They are connected to the akashic fields that can lift us out of the daily slur and can stimulate our awareness that there really is more between heaven and earth than the rational can explain. Each session is a personal experience according to the attunement of the moment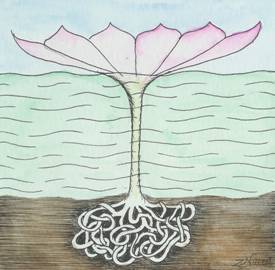 A Sound Soul Healing offers a doorway to spiritual healing. It is therefore not an alternative to other regular methods of healing but is a support to them. It works at soul level. To obtain optimal healing it can be necessary not only to heal the body but to heal the heart, spirit and soul. The releasing of old patterns and blockages the transformation of impressions.
During a Sound Sound Healing you lie down or sit (which ever is most comfortable for you) in order to relax completely and to release yourself into the sounds. Mantras are sung for you with overtones. Every session is different. Zubin Nur surrenders herself to the sounds of the Mantra to form a bridge between you and your highest good in that moment. This is not about "technically beautiful singing" rather a path to finding the sounds which will open the paths to free blockages, bringing movement & healing.
All the mantras are sung with overtones, there are no instruments. All notes may be used, also all half notes, 'false' notes and overtones. In this way it is also an experience which rises above 'good' and 'false'. The notes and tones come as they do. It is an exercise in releasing and letting them do their work.
Four Mantras of Hindu Goddesses are used
© forspiritual wisdom,
© for the connection to abundance
© for transformation
© for clearing the path of all obstacles. ©
©After the singing there is a period of silence to allow the Mantras be absorbed.
A Mantra Sound Healing costs €99,- and takes 1 – 1,5 hours.
© NEW! A recording of a Sound Soul Healing session is now available for €33,-
©Sound Soul Healing traject, is a series of 6 sessions with personal guidance in mantra singing and the Sound Soul Healing experience. Cost: €550,- (a discount of €54 for the commitment to 6 sessions).
© Distant Sound Soul Healing. Call and make an appointment to send a photo and a recording of the session & booklet will be sent to you.