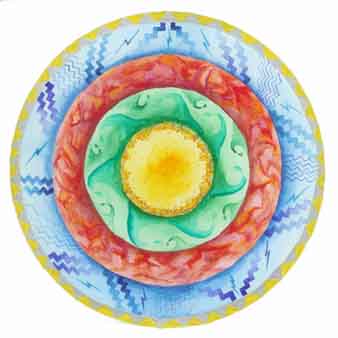 Element mandala (ware grote +/-18cm diameter)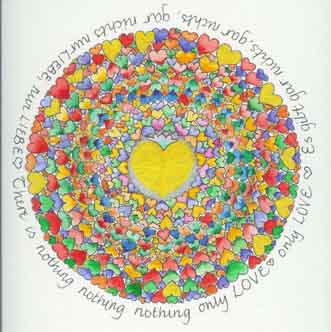 Er is niets....(ware grote +/-18cm diameter)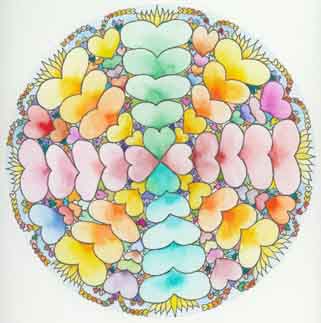 Hartmandala (ware grote +/- 18cm)
Boekenlegger Blue Hearts
Tekst achterop: "Hearts are all different colours& sizes & they all carry the light of The One & they all respond to Love."

Boekenlegger Persoon + Liefde
Tekst achterop: "We reach out for Love and all the time it is inside."

Winged Heart
"The winged heart rises above the mind mesh."
of
" Only a heart with wings can fly."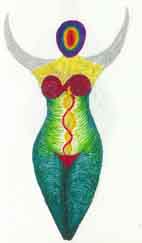 Godin Kleur (€4)
Tekst : "Remember All I am is re-born in you
My Wisdom, My Wildness, My Power
Open to these qualities in you"

Vrouw (€3,50)
Tekst : "The Goddess is the Source of All Life" of "One in Love, One in Peace, There is Only One" of "Many small people, in many small places, who do many small things ~ can change the face of the world."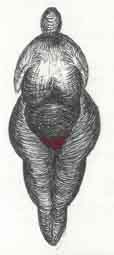 Zwarte Godin (€ 4)
Tekst : "I am the Ancient One
you live in Me, I am the Ancient One
living in You."

Groot Moeder Slang (€4)
Tekst : "Ama Usum Gal Ana Ama Usum Ama Gal Dingir
Mother Snake, Great Being, Holy Heavenly Snake, Mother Great Radiant Goddess "
Multicolori Harten (3,50)
Tekst achterop: 'Liefde verenigd ons allemaall' (ook in het Engels verkrijgbaar) of 'When you look LOVE is all there is' of 'Love Unites' of "I am convinced that LOVE is the most durable power in the world. M. L. King Jr."